Utilizing Hicks's 70+ years of experience.
Hicks designed a switch and valve cartridge for airlines on our trailers. Valves are tucked neatly inside and protected close to switches. The cartridge is easily removeable/replaceable for inspections/maintenance. For a fleet of the same trailers, they are interchangeable. Customers recommend keeping additional cartridges in inventory. The entire cartridge pops out for troubleshooting. A new cartridge pops in resulting in mere minutes of downtime.

Hicks color codes 7-way wiring. End users and service providers attest to the fast, easy maintenance.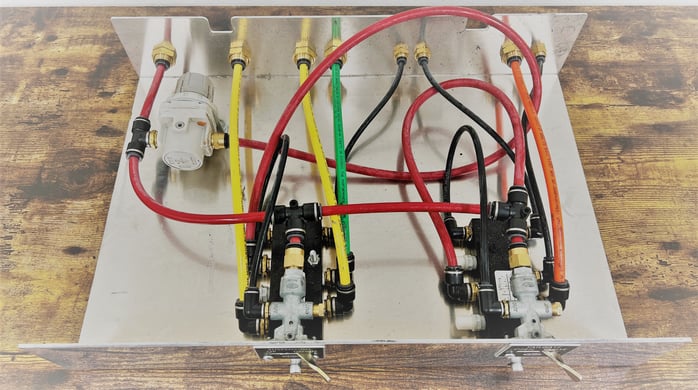 Considerations for maintaining your piping to perfection.
FMSCA regulations.
https://www.fmcsa.dot.gov/regulations/title49/section/393.28
https://www.ecfr.gov/current/title-49
Loom. Higher quality, more durable loom increases protection and extends life.
Wire clips. Spacing 8" or less secures and prevents sagging.
Grommets. Grommets with membranes on openings to inside of the trailer provide a liquid-tight fit and protect/prevent material buildup/sagging.
Light connections. .180" bullet connectors/receptacles ensure the tightest fit, virtually liquid-tight. Loaded with grease, these connections result in no corrosion and easy maintenance.
Gladhands. Filters protect other valves and allow for an extended warranty from ABS manufacturers.
"...If your wires are dirty and haven't moved, you're in good shape. If they've moved, there could be a problem. Eliminate hard bends. Use fittings to straighten your lines. Keep eyes open for wear and chaffing." (Customer since 2016, 30+ years hauling, Dallas TX).