1. Hicks revolutionary, patented, weld-free design redefines strength in our bodies and trailers. Our design using Huck fasteners with 3.5" double wall aluminum extrusions provides durability, flexibility, and modularity that is far superior to welding.

"Changes the equation. Faster. Safer. Simpler. More cost-effective. And proven with several decades of flawless performance in trucking, rail, automotive, agriculture and many other industries. Find out why so many forward-thinking design engineers have made the switch from welding to HuckBolts."
Welding degrades aluminum components. The result can be a repair that is structurally unsound, not to mention ugly.
2. Hicks design is modular and repairs to a like-new state. Replace sills, sides, floor, post, or lightbox in just hours.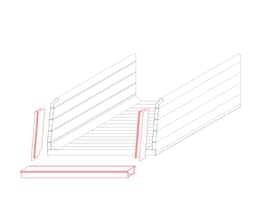 Less costly repairs, minimal downtime, guaranteed workmanship, aluminum components retain their full strength.
3. No more chasing and welding cracks on your trailer.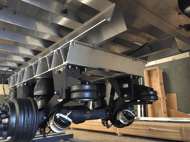 Take for instance a subframe. The subframe of a trailer is a high-load, high-stress area. It is a common weld and problem area for dump trailers. Extensive finite element analyses (FEAs) and road testing have proven Hicks's bolted subframe to be a durable component in this high-stress area.
4. Hicks trailer floor is constructed with extrusions that interlock. The result is a perfectly flat floor that allows payload to discharge smoothly.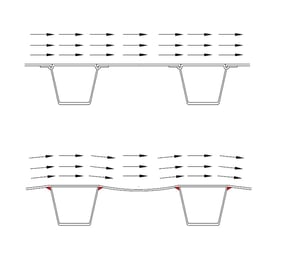 A floor with welded cross members will always distort from heat. The result is a "washboard" surface with high spots that will wear excessively with discharge.
5. Hicks trailers have no doghouse and the rear is the same width as the front. Payload discharges smoothly with minimal wear.
Competitors' design flaws: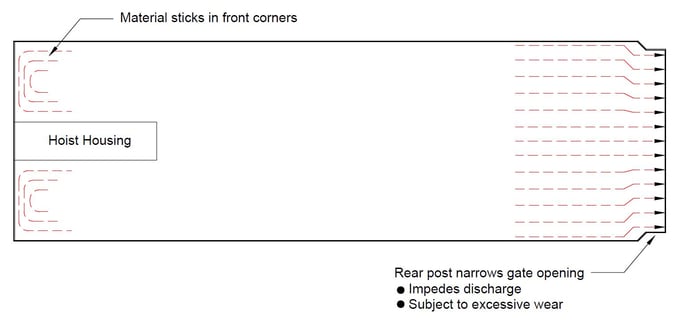 Not to mention, because of Hicks's modular design using Huck fasteners, our rear panel can be replaced in an hour.
6. Hicks innovative hoist kingpin assembly reduces overall weight and uses less costly parts that prevent wear. Parts can be replaced in an hour.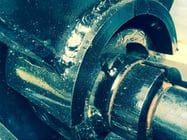 Rollers support the body. The roller and pin take the brunt of wear - no saddle wear. Drain holes allow moisture to drain and provide access for lubrication.
7. Hicks inverted cylinder is shielded from inner rust. Seals are located at the bottom of the cylinder, at the kingpin plate. Telescopic parts move with ease as hydraulic oil allows for constant moisture.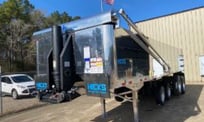 8. Hicks has a modular, easy to maintain grain gate design for versatile hauling options.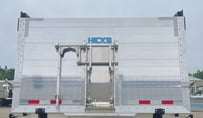 9. Hicks is proud to offer a variety of customizable dump body, frameless, and frametype trailers!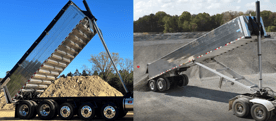 10. When you buy a Hicks, it pays for itself.
Your steel trailer weighs 12,500 lb. It's in fair shape and would easily sell for $25,000. There's a new trailer that only weighs 10,000 lb., and it costs $75,000. Monthly cost for upgrading would be about $830. But, now you can haul 2,500 lbs more material. Conservative data tells us you make about $6.00/year for every pound you haul. The 2,500 lbs will add about $15,000 in revenue, or, $1,250/month. It's a cash gain right out of the gate.